Security in public places
We create security and trust in public spaces.

Property protection
Property patrols at unpredictable times are demonstrated to significantly reduce the risk of burglary, as burglars observe properties in advance and refrain almost immediately from approaching guarded properties.
For private and corporate properties, the best option is nocturnal rounds with a preliminary closing round before dusk or after your employees leave work. Every door, every single window within reach and every basement grating is carefully checked by us. Locks are checked by hand and closed immediately if found to be open.
Industrial property protection
Doorkeeping (Doorman / bouncer / retail ...) for shops and commercial buildings frequented by the public, to ensure the security of the goods on display and employees.

(External) monitoring of office buildings, including the unobtrusive use of electronic tools to secure potential sources of danger via web-based solutions.
Guard and patrol services in hotels and hotel grounds, shopping malls and other public places, including all associated outdoor facilities, underground car parks etc.
Construction site security
The topic of construction site security and property protection is becoming increasingly important. In this area, we support you in:
Controlling access to your building site
Daytime and night-time monitoring of your site
Verification of visitor compliance with safety measures
Logistics in the worksite supply area.
Together with you, we develop property protection solutions for warehouse / logistics buildings and grounds. Here, custom solutions are required, based on the type of property to be protected and the people with access to the property.

Kontakt
Should you have any further questions, or if you would like to arrange a meeting with us, please call us on:

Telephone: +49 / 611 / 1357-720
Commercial and private property protection
Security and trust.
While you relax on holiday, we protect your home – if you want, we'll even water your plants.
Warehouses and shopping centres are protected by patrols. To ensure secure documentation, control system data (proof of patrols, patrol routes) is transferred to the client.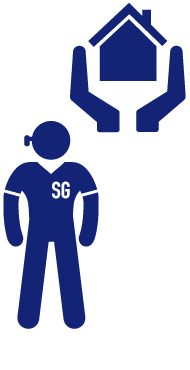 Thieves are alarmed by the permanent presence of patrols, which is especially important in abandoned industrial areas.
Doormen guarantee a secure environment for customers and ensure a relaxing shopping experience.
Factory and office building security:
Strict entry control of authorised personnel and visitors.